MYOB AccountRight v19 - Module 1
| | |
| --- | --- |
| | INF1150 |
| | 978-1-925121-25-4 |
The skills and knowledge acquired in MYOB AccountRight v19 - Module 1 will allow the user to create a company data file complete with historical and opening balances, produce and manage purchase orders and invoices, manage accounts payable and accounts receivable, and produce BAS documentation.
NOTE: This manual is being discontinued and will no longer be available after 30 June 2019. The MYOB Student Edition needed to use this manual is no longer available, so please make sure you or your training provider have access to a Student Edition if you are making a purchase before that date.
At the completion of this course you should be able to:
navigate AccountRight
create a new company file for use in AccountRight
modify an existing chart of accounts to suit your business needs
work with opening balances
work with historical balances
make changes to customer and supplier details in the card file
create an inventory in AccountRight of items for sale
purchase items for a business in AccountRight
enter payments for purchases that have been made
enter sales transactions
produce more complex invoices
apply customer payments to open invoices
work with the inventory that has been set up in AccountRight
use AccountRight's cheque facility for making purchases
reconcile AccountRight data against company bank statements
work with the reporting system in AccountRight
understand how AccountRight is set up and works with the GST
set up and complete a Business Activity Statement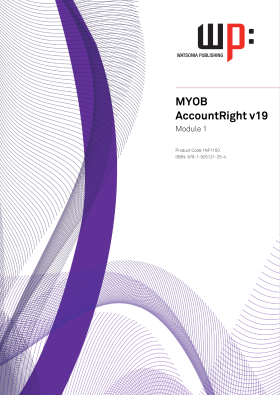 Click here for a sample
$36.10
Purchase: Add to Cart

View outline
View a detailed outline of the course material. You may need to install Adobe Acrobat Reader to open this file.